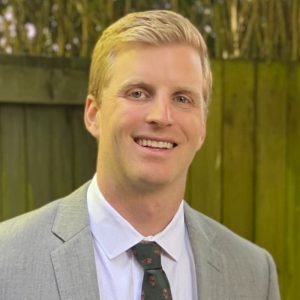 RDA Systems is one of the many family businesses operated throughout the U.S.A. According to Family Business Institute, on average, only 30% of family businesses survive past the second generation.1  RDA Systems Inc. officially has beaten those odds.
This month, RDA is spotlighting Riley Davis who is a third-generation family employee. He grew up within the RDA culture, going to conferences with his dad and holding various part-time positions throughout his young adult years. He always enjoyed RDA's positive work environment and the staff who worked around him.
After graduating with a marketing degree from the University of Tennessee at Chattanooga (UTC), Riley developed his sales skills and entrepreneurial mindset at Becton Dickinson as a surgical Device Representative with a proven track record of success. He knew at some point there would be an opportunity to join his family's small business and concentrated his efforts on improving his business acumen and sales knowledge until then.
While at UTC, he played wide receiver and secured three Southern Conference championships. Go Mocs! He met Emily (his future wife) in college as she played Volleyball for UTC before she transferred to the University of Georgia to finish school. They lost touch for several years then reconnected at a mutual friend's wedding where they rekindled their friendship, and the rest was history! Riley and Emily married in July 2021 and enjoy hiking, sports activities, and discovering local breweries/restaurants on the weekend with friends.
Just recently, in January 2022, Riley accepted a position at RDA as a Sales Consultant. His main responsibilities are to represent RDA at conferences, drive campaigns to create awareness of RDA's product suites, and meet all the RDA Users. Riley is ecstatic to finally work full-time alongside his father, Dave Davis. As he grows into his new role, Riley looks forward to partnering with his dad and the company leadership team to take their business's success to new levels of excellence, provide great service for their clients, and continue to build the positive work environment and family culture for which their company is known.
Because Riley has been within the walls of RDA since childhood, he has a unique small business perspective. He can recall several instances where he was proud of the company his family built. Some of those proud moments include the consistent customer support stories and all the personal relationships RDA clients typically develop with RDA staff. He is very proud to work with all of RDA's great employees.
Riley loves the culture of his family's business, which ensures that all work and no play is not good for anyone. One of the activities he loves to do outside of work is compete in bicycle races. He's planning on completing his first Century Ride (100 miles) at some point during 2022. Personally, his friends and family know that when the rubber meets the road, Riley will be there. He has a track record of supporting people in need, especially in tough situations.
One of the skills Riley established that contributes to his business success and life achievements is understanding that "you have two ears, but only one mouth."  According to Riley, listening intently is just as – and many times more important – than speaking. He recognizes that achieving mutual goals happens far more easily when he takes the time to understand someone's position and find a win-win for everyone.
Riley's favorite food is the "All Star Special" from Waffle House. If he were granted a wish and could meet anyone from any time period, Riley would pick Dwayne "The Rock" Johnson because he truly appreciates his drive and work ethic. Johnson's outlook on life also has been inspirational to him. A close second choice, according to Riley, would be Mark Cuban (American entrepreneur television personality, and media proprietor).
Riley's favorite types of books are mystery novels. He shared that if he could pick a theme for RDA and turn it into a book as a fun story about his company, he would write a tale about all the W2s going missing and dispatching RDA detectives to find the W2 bandit.
Riley's entrepreneur heart is fully enjoying being a part of his family's small business succession plan as he continues to grow into more and more responsibility within the company and will for years to come.
RDA Systems. Inc. is a successful multi-generational software and consulting company that specifically caters to small schools, towns, and counties. Our US-based team focuses on quality, modern and secure cloud-based software, and excellent customer service.  To learn more about how RDA Systems' Municipal Suite, School District Suite and Concierge Support can work for you and your team, go to www.RDASystems.com.
Footnotes:
1 Read the Family Business Institute article here: What's the True Family Business Survival Rate?