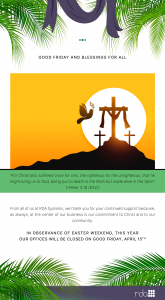 In observance of Easter weekend, this year our offices will be closed on Good Friday, April 15th.
From all of us at RDA Systems, we thank you for your continued support because, as always, at the center of our business is our commitment to Christ and to our community.
"For Christ also suffered once for sins, the righteous for the unrighteous, that he might bring us to God, being put to death in the flesh but made alive in the Spirit" (I Peter 3:18 ).