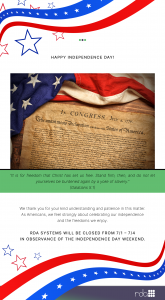 This year, RDA offices will be closed from 7/1 – 7/4 as we observe the July 4th weekend.
We thank you for your kind understanding and patience in this matter. As Americans, we feel strongly about celebrating our independence and the freedoms we enjoy.
We hope you all have a restful and rejuvenating holiday and can celebrate freedom alongside your loved ones with fun, fireworks and great food.
Happy Independence Day!
Love to All,
RDA Systems, Inc.